Welcome from the Director
Thank you for your interest in our fellowship program in Maternal-Fetal Medicine! Established in 2018, the fellowship is affiliated with the University of South Carolina School of Medicine Greenville, and based within Greenville Health System.
The structure of our fellowship is inspired by the mission statement of our health system: Heal compassionately. Teach innovatively. Improve constantly.
Heal compassionately. Patient care is at the heart of all we do, and our faculty take great pride in the care we provide at the bedside. This includes excellence in ultrasound and prenatal diagnosis, detailed outpatient consultation for pregnant women with complex medical conditions, and management of laboring women with life-threatening complications of pregnancy. We are the tertiary care center for the Upstate region of South Carolina, and serve a geographic area that includes approximately 15,000 deliveries annually. Our fellows will graduate with the capacity to provide both compassionate and high-quality care to women with complicated pregnancies.
Teach innovatively. Our faculty has one of the largest core groups of Maternal-Fetal Medicine specialists in the Southeast. They have mentored generations of residents, and are excited about training fellows. Our department has a long-standing commitment to graduate medical education, and also has a robust schedule of conferences, skills labs and simulations for our fellows. In addition, we have a partnership with Clemson University that will allow our fellows to earn a graduate certificate in clinical and translational research.
Improve constantly. Health care changes quickly. This includes not only medical knowledge and technology we use to care for patients, but also the greater political environment in which we practice medicine. Our fellowship includes foundational training in clinical research and quality improvement. Our department has a deep and abiding commitment to supporting clinical research in obstetrics. We are an ancillary site for the NICHD MFMU Network, and have multiple industry-sponsored and investigator-generated research projects underway. This infrastructure is available to fellows in order to ensure their success with clinical research projects.
Our focus is on training future leaders in Maternal-Fetal Medicine, who share our commitment to excellence in patient care. We look forward to your application, and to welcoming you to Greenville for a visit.
Best wishes,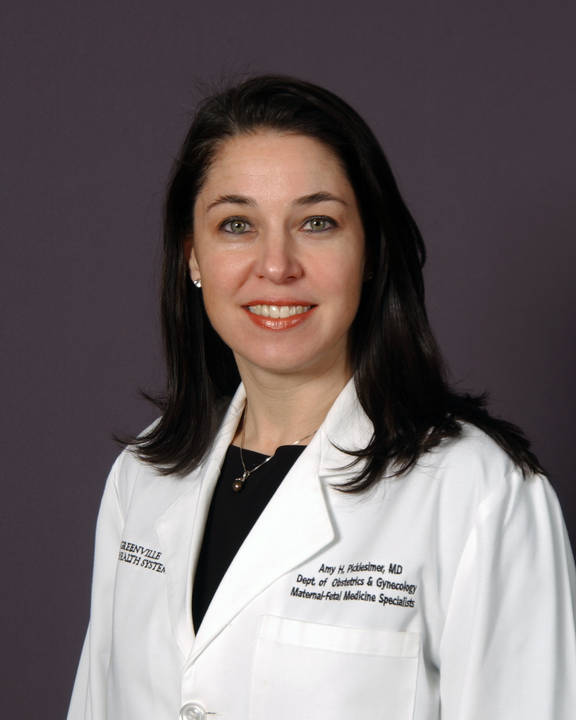 Amy H. Crockett, M.D., M.S.P.H.
Program Director
Maternal Fetal Medicine Fellowship Program